Northwest Woodslayer, Beautifully Custom
Q: At what point does a business outgrow its "turnkey" website?
A: When the scalability or functionality offered no longer matches the work or product produced by the company.

In this case, Northwest Woodslayer had outgrown the functionality of their previous website and required a fresh, more sophisticated look that matched the detailed quality of their work. We quickly needed to familiarize ourselves with the brand and establish some overall goals. Since the work produced by the skilled craftsmen of Woodslayer is so beautiful and custom, we couldn't exactly build off a template. Using a number of other industry sites we designed the basic framework from which we would build. We focused on 3 key elements that would help the user quickly look through the galleries and be inspired to contact the team for more information. ⬇️
Beautifully Large Images
This is a must-have in a Pintrest-trained world. We all love scrolling through images. Images can inspire, encourage, and help give direction to the user. Woodslayer had folders full of professional quality images which helps give tremendous credibility to their work.
PROJECT & CATEGORY GROUPINGS
There's a number of ways to present images to a viewer. Ultimately, these galleries needed a method of grouping. The first group would be based on a "Project." These projects were typically named by either the location in which they were built or the client's name. This gives the viewer the opportunity to see the whole scope of the project and the overall ability that is inherent to Woodslayer. The second grouping is based on a "Category." If you were looking to remodel your kitchen, for example, this would be the gallery for you. You can efficiently slide between all the kitchen images and gather ideas and preferences for your project. We built intuitive filtering tags at the top of the category page to facilitate this.
IMAGE DETAIL TAG
In 1951 a man named Ingvar Kamprad put together a catalog with images of furniture and other home goods. It was the first IKEA catalog to be specific. This was the inspiration behind the "Image Detail Tag". This responsive tag allows Woodslayer admins to offer more specific information about a particular item in a photo, such as a technique or material used to create what you see in the image.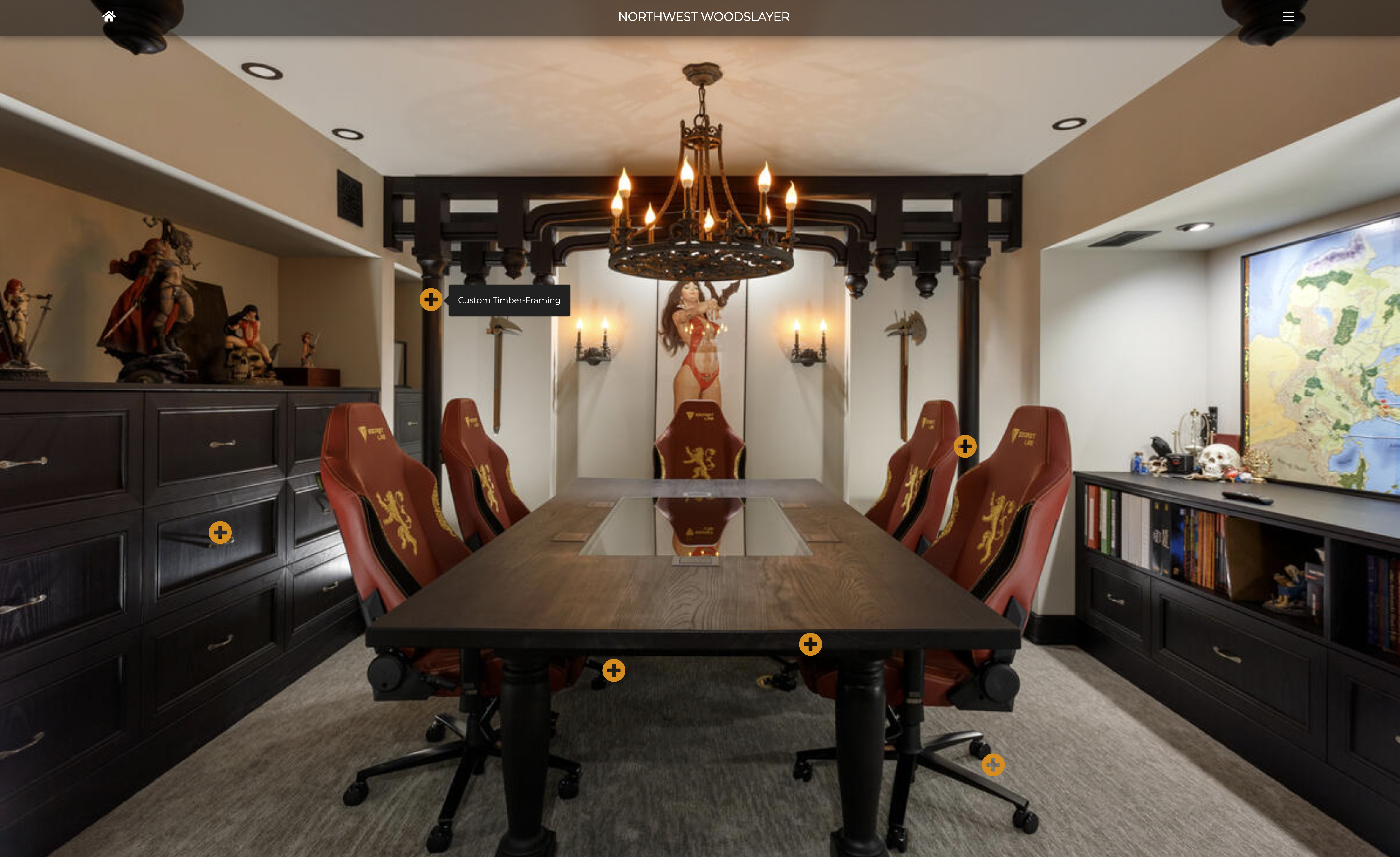 We're honored to partner with clients like Northwest Woodslayer and look forward to continued innovation on the site and growth as they rock the custom cabinetry world with excellence in an unconventional package.
How Can We Help Your Organization?
Get in touch with us and let us know how we can partner with you to overcome your unique challenges. We're up for task.