I've been discussing "process" a lot lately and with a variety of clients. In my role, it's impossible to avoid the topic as I dive into a company's brand and consider ways to better communicate with their target audience. This got me thinking about our process as I often compare it to our clients. The Cascade process isn't patented or anything. In fact, I don't know that it's 100% original. I'm sure it's simply built out of the experience gained over the last 20 years of working with clients to find success online. But where the process came from isn't my point. My point is that as any business advisor would suggest, it all starts with a plan. In this case, it's our process. The key is sticking to it. Likewise, having a process in which we structure projects, build custom online solutions, and crush client goals is exactly our key to success.

If you've ever sat in a meeting with Ben, Cascade's founder, you'd hear his analogy of building a house. There is a process (blueprint) for building a house and it starts with the foundation...
Strategy & Design
We begin all our projects at this phase. This is where we spend the time needed in order to discover all the nooks & crannies, challenges, and requirements a new or existing site may have. We try not to assume we have all the details out of the gate in any project. This becomes the foundation in which we are able to build.
Within the Strategy phase we build out the structure & information architecture needed to achieve our clients' organizational goals. You'll see on the timeline below that this take a lot of time and effort. We do this so that there is a clear path through design and on to development. If we've done our jobs well during this phase, we are less likely to discover additional obstacles in future phases.
Using the information architecture we can then start to design the overall look and feel of the project. Within the Design phase we thoughtfully incorporate the client's current branding and brand assets or if needed, we will build assets from scratch. We work closely with our clients to ensure brand consistency and honor any work or efforts that came before our involvement. This phase allows us the flexibility to be creative all while working to meet the original project goals/needs.

(Above is a sample timeline we use to track progress during the individual phases.)

Development
The Development phase is where Cascade begins to shine since this is when we begin to work within Evergreen. It's also were Cascade got it's start as a "development shop" in 2001. This phase can begin once we are confident in the work accomplished during the Strategy & Design phase. Though, these two phases can overlap at times, it's imperative that Development begin only once the information architecture and most of the design groundwork is completed. This will help reduce any chances of having to start over or doing work that wasn't part of the original scope.
Since our websites are all developed within Evergreen, our custom CMS, we don't have the constraints or
baggage
found in other CMS systems. This helps us streamline the clients needs and site possibilities into a scalable package.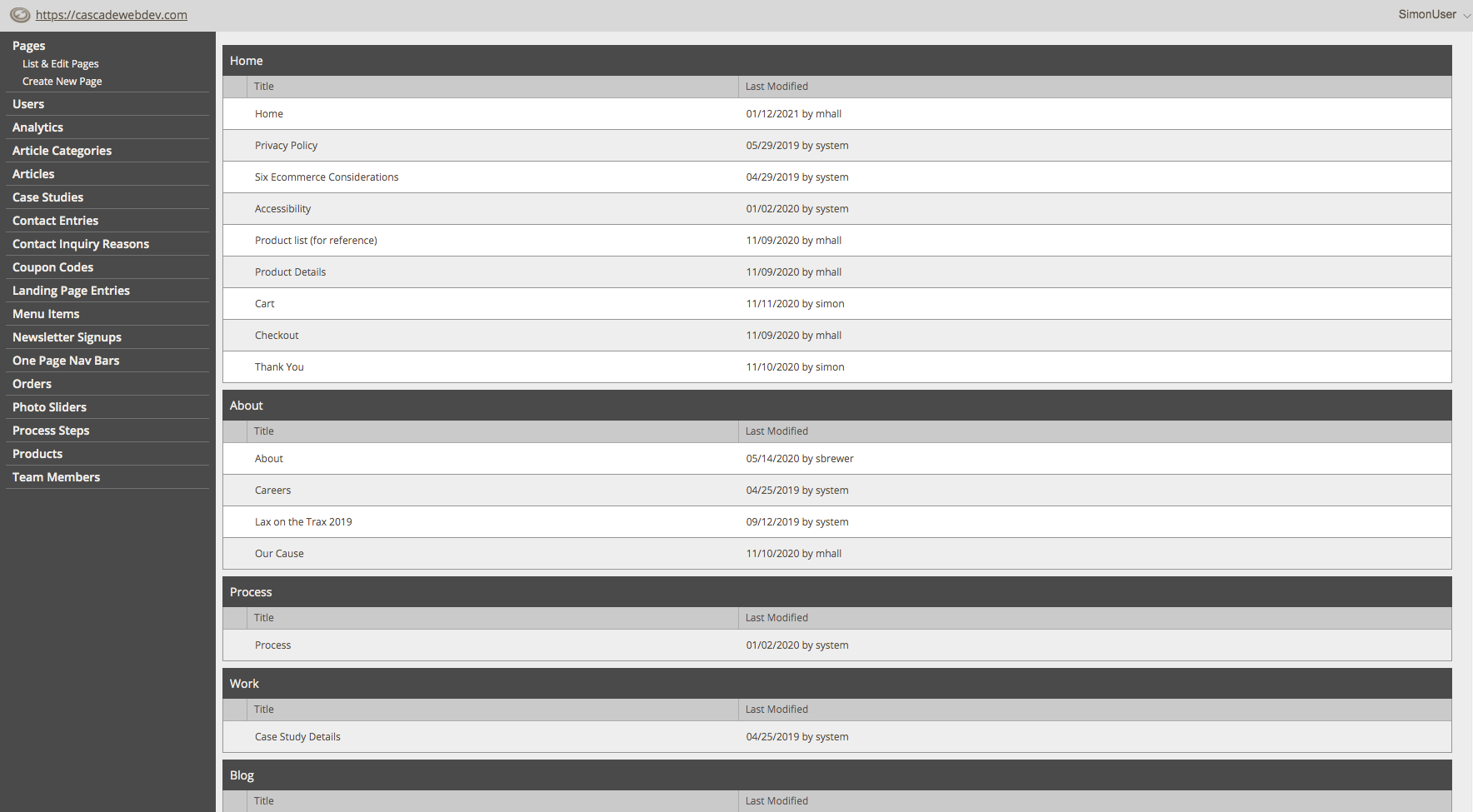 Evolution
The last step in the Cascade Process is actually constantly evolving to meet the needs of both our clients and the project. This phase is when we QA or thoroughly audit a site/project. We test in multiple browsers, click every link, check for errors and formatting issues. We also perform the same QA after the project is launched. We don't simply want to hand over the keys and walk away.

We believe this is what sets us apart from the competition. We thrive on a continued relationship through trust that fosters growth and scalability. We partner with our clients with continued support almost as if we were the in-house development team. So as their needs change to meet the ever-changing online landscape, we are there to crush their new goals.
If you have a process you use to crush goals, tell me about it! Please send it to
simon@cascadewebdev.com
- Simon Hartt