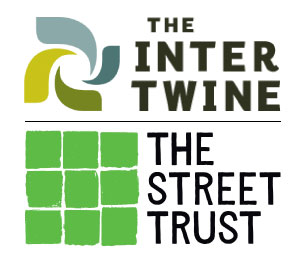 Becoming a B Corp in December 2017 was both an accomplishment and new challenge for Cascade Web Development. On the one hand, we'd earned a place at a table we'd worked hard to achieve through doing things a bit different every day. We quickly realized we had a long way to go on our path toward a more intentional way of operating.
This year, we've set a goal to gain more insights on the big, important topic of diversity, equity and inclusion. DEI. This a journey I've been pursuing actively the last several years through events, reading and conversations. I'm excited to ramp this up as part of my efforts serving on the board of directors for The Street Trust.
I'll be joining a cohort of other leaders from nonprofits and for profit organizations that see the importance of DEI in their organizations and beyond.
The Street Trust is one of seven organizations participating in the 2019 Intertwine Alliance Diversity, Equity and Inclusion (DEI) Implementation Cohort. The DEI Implementation Cohort supports organizations who are already deep into their DEI journey, both as individual leaders and as organizations. This cohort will support continuous leadership and capacity building, while giving organizations opportunities to apply their learning to actual current challenges. Focus will be on supporting organizations in integrating DEI into organizational culture, policies, practices, and programming by offering a deep-dive into Capacity Building Partnerships' DEI Leadership & Capacity Building Framework.

I welcome this opportunity to learn and share ideas with the Street Trust in support of their mission. I also embrace this journey as I try grow and evolve as a leader in a time of change. I imagine it will be uncomfortable and a little messy at times. That said, I'm ready to go forth with curiosity and an open mind as this important work kicks off in mid February. You can expect to see more from me on this important subject in the coming months.