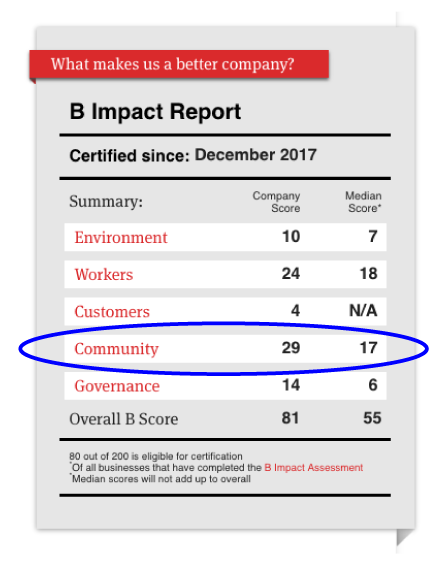 Although the Cascade team members come from all over the country, we're happy to call Portland our home and pride ourselves on being an active part the community. So it's no surprise that we scored well in the "community" category of our B Corp Scorecard. Our community score was a healthy 29, compared to the median score of 17 for all companies globally who have participated in the B Corp Assessment.
There's no shortage of studies showing the rise corporate responsibility plays in a consumer's buying decision. While it's a little different for a professional services company as our own, we focus our community involvement on our passions; equity and inclusion for all people seeking an active lifestyle and encouraging others to get outside. We look at our involvement as leading with passion, not an underlying business goal.
"Too often, organizations focus on community involvement only to get something back in return– more profits, marketing, etc. Take a "community in the front, business in the rear" approach. Do the community work personally and you will benefit by seeing the difference….genuinely help people and the benefits will come," says Ben Martinez of HireVue in an article from Forbes on growing business through community involvement.
Within Cascade, we offer paid time off for volunteer activities and look for opportunities to work as a team, like serving breakfasts at New Avenues for Youth. Our founder Ben McKinley serves on several boards, including The Street Trust, which encourages and advocates for safe, active transportation (walking, biking and public transportation) throughout Oregon. He also has the unique opportunity to serve alongside with his 12-year old daughter Tatum as ambassadors to The Mountain Shop. Together they are working to bring underserved communities into more outdoor activities.
The benchmarks set by our B Corp scorecard helps us focus on continual improvement. We're challenging ourselves to be more active, beyond the PTO to pursue issues that are important to us individually and as a team. It's easy to get bogged down in the day to day, but we know that community activity not only helps with the elusive work/life balance it's also the what makes Portland such a great place to call home.