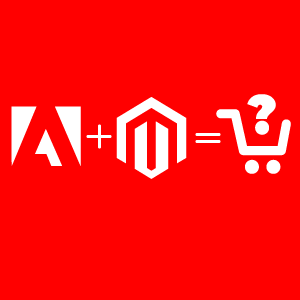 In May 2018 we saw the acquisition of Magento by Adobe, adding the ecommerce piece that's been missing from Adobe's extensive suite of digital and customer experience products. Commentary in most articles on this acquisition seem very similar and quite high level at this stage of the game.

Ultimately it looks like a play to be ever stickier amongst clients, but mostly agencies, that (think they) want to work with fewer providers to access a suite of services. Magento will be rebranded as Adobe Commerce Cloud, leveraging Adobe's trusted brand value. Customers can expect to be sold a compelling story that sister companies provide a more seamless experience when trying to get varying elements of a go to market strategy to work together.

Adobe is doing its best to compete with Salesforce and Shopify to provide a seamless solution from marketing to sale for its customers. History proves this is no easy challenge. Recall how Magento was purchased by eBay in 2011 and then went private again in 2015. Solid fit with mergers can be elusive.

I am certainly humbled by the challenges of getting disparate systems to play nice together in the sandbox, regardless of how 'easy' its promoted to be via API's and plug ins. Acquisitions like this suggest a stronger effort to get systems to play well together. At the same time, these solutions need to continue to evolve in how they interact with other systems as well.

Will Magento and Adobe succeed with this goal or merely apply more pressure and a new sales approach to rope in more business by cross pollinating amongst their vast client bases? Time will tell how successful these companies are in delivering on this promise.